Peace and Harmony Pain Management Center uses alternative medicine and natural therapies to treat pain associated with TMJ, jaw pain, neck pain, headaches, and all types of body pain. Our unique combination of therapies and many years of experience have greatly helped those who suffer from chronic pain.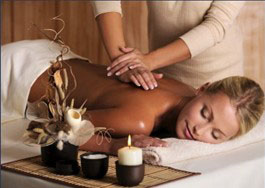 Our massage therapist uses massage therapy techniques that are effective in increasing circulation, relieving muscle fatigue, eliminating muscle tension and decreasing pain. Chronic pain caused by TMJ, jaw pain, neck pain, back pain, ear pain or pain caused by headaches can be a tiring and frustrating condition.
Our massage therapists have specific skills to reduce pain and to provide the most effective treatment possible. Our signature massage often includes: Hot or Cold Stones, Deep Tissue Massage, Myofacial Techniques and Trigger Point Therapy. We will personalize your treatment to your concerns with the goal of helping you to feel better as quickly as possible.
Peace and Harmony Pain Management Center also offers Acupuncture to treat a wide variety of painful medical conditions. Acupuncture is a non-drug therapeutic treatment which is recognized by the World Health Organization (WHO) and the National Institute of Health (NIH) to be effective in the treatment of various types of pain. Our Acupuncturist focuses on minimal acupuncture, nutritional counseling and mind-body therapies. If you are interested in exploring acupuncture as a possible treatment for your painful condition, please call us to schedule an initial consultation with us.
All appointments are scheduled with sufficient time so that a one-hour massage means one-hour on the table.
Call us for an appointment today: 617-209-9762